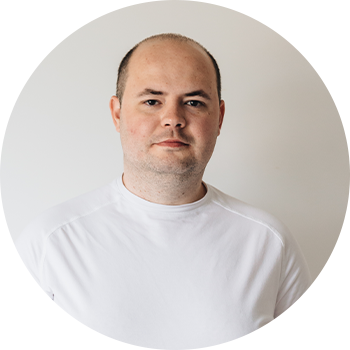 Specialty: Dentist-periodontist
12 years of work experience
Education:
2009 – graduated from Lviv National Medical University named after Danylo Halytskyi and received a full higher education majoring in Dentistry.
2011 – completed an internship and received a certificate of a general dentistry specialist at the P. L. Shupyk National Medical Academy of Postgraduate Education.
2013 – completed clinical residency at the P.L. Shupyk National Medical Academy of Postgraduate Education.
2016 – completed postgraduate studies at the P. L. Shupyk National Medical Academy of Postgraduate Education.
2017 – defended his M.D. thesis on the topic: "Clinical-pathogenetic justification of the use of vitamin D preparations in the complex treatment of generalized periodontitis."
About me
Since 2010, I have been working as a dentist in private medical institutions. I introduce modern algorithms of prevention, diagnosis and treatment of periodontal tissue diseases into medical practice. I pay attention to the influence of local and systemic factors, in particular the endocrine system and the metabolic activity of bone tissue, on the occurrence and course of periodontitis.
I constantly improve my theoretical knowledge and practical skills by attending conferences, master classes, reading foreign scientific articles, etc.
Participated in more than 50 scientific and practical conferences
Made more than 30 reports at Ukrainian and international conferences.
I have more than 30 scientific publications.
I apply modern techniques in the prevention and treatment of periodontal tissue diseases using the recommendations of the European Federation of Periodontology. I extend the life of "periodontal teeth" as much as possible. I teach proper individual oral hygiene and help to select hygiene products.
Reasons for applying:
Dental deposits (plaque)

Gingivitis

Bleeding gums

Purulent discharge from the gums

Increased sensitivity of the teeth

Mobility of teeth

Bad breath
Professional motto: Prevention is the best treatment. Proper oral hygiene at home and regular professional hygiene in the dentist's chair are the key to the health of the oral cavity and the body as a whole.