Consultation and diagnostics
Consultation without examination of the oral cavity (up to 15 minutes)
Free
Еxtended consultation: diagnostics, treatment plan with determination of the cost of all work
650,00 UAH
X-ray visiography
120,00 UAH
X-ray visiography
150,00 UAH
Removal of gingival deposits, brushing teeth - 2 jaws / 1 level of difficulty / Ultrasonic supragingival brushing and air - abrasive polishing (Air Flow with glycine)
1 790,00 UAH
Removal of gingival deposits, brushing teeth - 2 jaws / 2 level of difficulty / Ultrasonic supragingival brushing and air - abrasive polishing (Air Flow with glycine)
2090,00 UAH
Air Flow (using fine powder with glycine) - 1 level of difficulty
600,00 UAH
Air Flow (using fine powder with glycine) - level 2 difficulty
780,00 UAH
Ultrasound 1 jaw - 1 level of difficulty
550,00 UAH
Ultrasound 1 jaw - 2 level of difficulty
650,00 UAH
Selection of individual hygiene products (products are included in the price)
750,00 UAH
Hygiene lesson
150,00 UAH
Polishing restoration - 1 tooth (on request)
350,00 UAH
Treatment of hyperesthesia (hypersensitivity), coating "Desensitizer" - 1 tooth
150,00 UAH
Overlay of a rubber dam, Optragate
150,00 UAH
Anesthesia and anesthesiology
Application anesthesia
70,00 UAH
Anesthesia (conductive, infiltration)
250,00 UAH
Additional anesthesia
150,00 UAH
Consultation with an anesthesiologist
650,00 UAH
Anesthesia in one year (at the partner's rate)
from 3 600,00 UAH
Sedation (for one hour)
2 900,00 UAH
Children's dentistry
Consultation of a pediatrician with a treatment plan
300,00 UAH
Adaptation visit 30 minutes
250,00 UAH
Brushing teeth in children with water jet /Air Flow гліцин (1 щелепа)
450,00 UAH
Пломба молочного зуба фотополімерна
1100,00 грн
Лікування періодонтиту
850,00 грн
Лікування пульпіту
700,00 грн
Фторування зубів
450,00 грн
Caries treatment – fillings, restorations
Glass ionomer seal
850,00 UAH
Photopolymer filling - initial caries
950,00 UAH
Photopolymer filling - medium caries
1090,00 UAH
Photopolymer filling - deep caries
1 490,00 UAH
Endodontic treatment
Mechanical treatment of one root canal with rotary instruments (endomotor)
690,00 UAH
Passage of a sclerosed, previously treated or "difficult" canal
1 290,00 UAH
Ендодонтичне лікування трьохканального зуба в один прийом
6865,00 грн
Ендодонтичне лікування чотирьохканального зуба в один прийом
8475,00 грн
Повторне ендодонтичне лікування
від 4 065,00 грн до 10 155,00 грн
Periodontology
Periodontist consultation
300,00 UAH
Periodontal diagnostics
650,00 UAH
Remineralizing therapy of two jaws
200,00 UAH
Closed curettage 1 difficulty level (1 quadrant of teeth - 4 teeth)
1200,00 UAH
Closed curettage 2 difficulty level (1 quadrant of teeth - 4 teeth)
1 500,00 UAH
Closed curettage 1
350,00 UAH
Medical treatment of periodontal pockets
200,00 UAH
Subgingival air-abrasive polishing (Air-Flow)
900,00 UAH
Oral hygiene training
150,00 UAH
Flap surgery, functional group of teeth (4-6) according to the method of directed tissue regeneration (без стоимости материала)
6 500,00 UAH
Splinting of movable teeth with fiberglass thread (J-Fiber Tape and photopolymer) 1 functional group of teeth (5-6)
2 500,00 UAH
Open curettage of the 1st sectarian
3 000,00 UAH
Periodontal diagnosis (Repeated)
500,00 UAH
Orthodontics
Consultation with an orthodontist
450,00 UAH
Consultation with a gnathologist
600,00 UAH
Consultation of an orthodontist extended TRG, OPTG
2 200,00 UAH
Alginate imprint (pair)
350,00 UAH
Diagnostic model (pair)
450,00 UAH
Bracket system arc replacement (BS)
600,00 UAH
Correction, replacement of ligature Bracket system (BS)
350,00 UAH
Additional element Bracket system (BS)
600,00 UAH
Micro implant
4 500,00 UAH
Bracket System Removal (BS)
1 100,00 UAH
Easy bite (Visualization)
3 200,00 UAH
Easy bite 1 cap eyeliner
3 000,00 UAH
Easy bite (30 pcs)
75 000,00 UAH
Invisialign
175 000,00 UAH
Replaceable devices up to 12 years (trainers)
3 700,00 UAH
Interchangeable devices of 1 types of complexity
5 000,00 UAH
Interchangeable devices of 2 types of complexity
8 000,00 UAH
Interchangeable devices of 3 types of complexity
10 000,00 UAH
Bracket system (BS) metal 1 jaw
14 400,00 UAH
Bracket system (BS) ceramic 1 jaw
18 400,00 UAH
Bracket system (BS) sapphire 1 jaw
22 400,00 UAH
Bracket system (BS) Damon metal (self-ligating)
25 000,00 UAH
Bracket system (BS) Damon ceramic (self-ligating)
30 000,00 UAH
Elasto-liner
22 500,00 UAH
Schwartz apparatus with three-sided screw
5 000,00 UAH
Joint cap / Muscle relaxant /
4 500,00 UAH
Implantation
Installation of an implant Straumann (Switzerland) SLA Roxolid BLX
From 470 €
Installation of the implant Dentis (South Korea)
350 $
Installation of implant Straumann (Switzerland) SLActive Roxolid BLX
540 €
Surgical dentistry
Hemostatic sponge insertion
150,00 UAH
Removing stitches
150,00 UAH
Extraction of tooth 1 and 2 - root
520,00 UAH
Prosthetics of teeth with support on implants
Imprint for making a crown on an implant
1 000,00 UAH
Temporary plastic crown on the implant
2 800,00 UAH
Milling metal abutment
400,00 UAH
Metal-ceramic crown, screw-retained
7 500,00 UAH
Dental prosthetics with fixed structures
Full denture acrylic
6 000,00 UAH
Removable partial denture acrylic
5 500,00 UAH
Керамічна вкладка
6 200,00 грн
Керамічна коронка
8 000,00 грн
Протезування зубів знімними конструкціями
Повний знімний протез акриловий
15 000,00 грн
Бюгельний протез з литими металевими кламерами
20 000,00 грн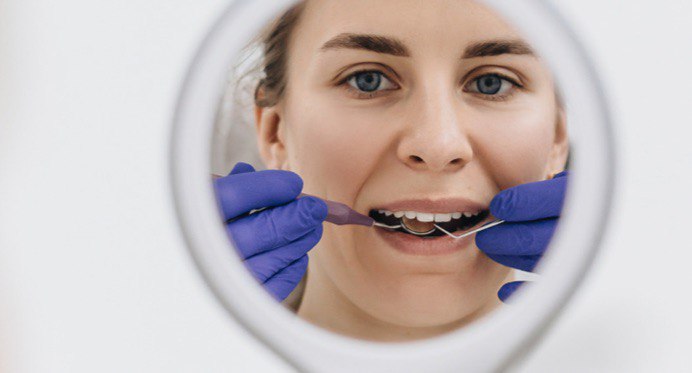 NOT FOUND IN THE LIST OF NECESSARY SERVICE
Submit an application and we will help you
QRD Dental is a new accessible dentistry form
Dental treatment scares many people. And the first barrier is the cost. It's no secret that high-quality dental treatment requires financial investments. QRD Dental bust stereotypes and myths about expensive and painful dentistry. Here, you will find answers to questions about treatment, pricing, and modern therapy approaches.
What is an innovative dentistry? How does QRD differ from similar medical centers?
QRD Dental is a new generation clinic that focuses on collegial treatment. A team of certified specialists, like dentist-therapist, surgeon, anesthesiologist work with each patient, and the therapeutic approach differ from the usual methods completely. Using unique materials and being attentive results in high-quality therapy, comfort, and safety. At the same time, the pricing policy is loyal, and the overall cost is down to earth.
Treatment guarantee
We provide a treatment warranty of up to 5 years and prosthetics – up to 7 years. The implantation has a lifetime warranty, regardless of the country you live in.
The main difference between a dental clinic and QRD Dental is the assurance of the quality of the materials. The medical center offers warranties but with one requirement, that a patient visit for check-ups twice a year.
Why the treatment can be so expensive?
The price of qualified dental treatment with top-notch materials remains competitive in the Ukrainian market. These factors affect the cost of treatment:
materials;
treatment complexity;
personnel salaries who create a comfortable environment;
technical equipment.
Often, the more patient postpones the visit, the more expensive the treatment gets. Also, the cost of cosmetic dentistry cannot be compared with the cost of a full-fledged surgical operation. Do not ignore the first symptoms (pain, discomfort, slight swelling). It indicates the existing problem.
How to save money when going to the dentist?
Contact a specialist before your teeth start to hurt or decay if you want to save a coin. Checking-up twice a year will surely save you a large chunk of your budget. The patients of the clinic also receive a discount on dental treatment. Also, you can use discount programs. They make it possible to save up to 30% on standard and preventive treatment additionally. Find out more about other package programs on the website.