Dental crowns in Kyiv
The process of placing dental crowns at QRD-Dental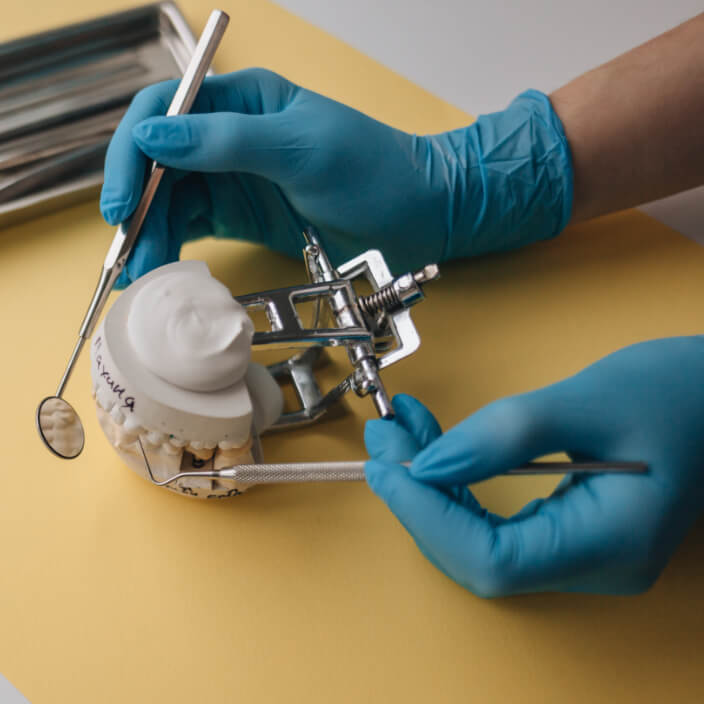 The installation of crowns at our clinic, QRD Dental, involves several stages. However, to begin with, you need to receive a consultation from a dentist to evaluate the condition of your oral cavity and determine whether crown prosthetics are suitable for your specific case
The first stage is the preparation for crown prosthetics.
Before moving on to prosthetics, you need to make sure that there is no dental calculus, gum inflammation or untreated caries. If there are any of the diseases listed above, therapeutic treatment is carried out. Next, it is needed to prepare the tooth itself including root canal treatment if necessary, or in cases of severe damage or tooth loss, the placement of an implant.
The second stage is the preparation for crown fabrication. Previously, dentists worked with impressions, but the QRD Dental clinic has a special teeth scanner. Now all work is carried out in a fully digital protocol.
Crowns, overlays, veneers –  they are all fabricated without the need for dental impressions. This allows for highly precise restoration design, minimizing discomfort for the patient.
The third stage is the installation of a temporary crown.
At this stage, the tooth is prepared to accommodate the crown.
A temporary crown is installed for the period while the crown is being made in the dental laboratory based on the impression taken.
And the final stage is the installation of the crown.
The fabrication of the crown takes about two weeks, after which the temporary crown is removed and the permanent one is installed. This is done using a special cement or photo-polymerizing adhesive, depending on the type of crown.
The dentists at QRD Dental clinic will professionally and effectively solve the problem of missing or damaged teeth. We specialize in complex cases and help restore chewing function and the aesthetic appearance of our patients' smiles.
We always provide a guarantee for the treatment performed, because we use only high-quality materials, and our doctors are true professionals in their field.
If you have any questions or would like to schedule a dentist's consultation, please contact us  through the available methods provided on our website. We will gladly provide you with all the necessary information and find a convenient time for the consultation.
The cost of the service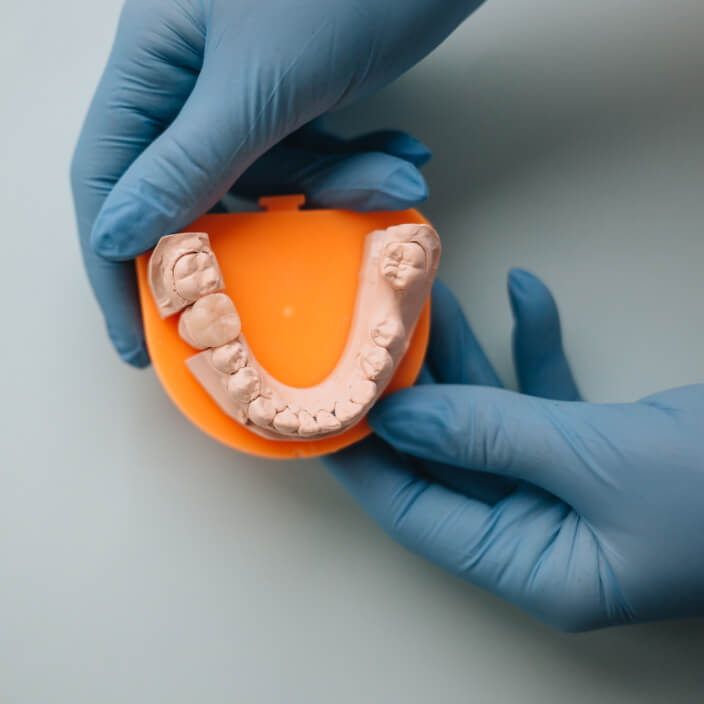 The cost of crown installation varies in each individual case and depends on many factors. The average cost of a metal-ceramic crown with installation is around UAH 9,000, a ceramic crown is about UAH 14,000.  However, the dentist will calculate the cost on an individual basis.
As for veneers, the average cost is estimated to be around UAH 18,000, but the cost may vary depending on the number of veneers that are planned to be installed.
More accurate prices, taking into account the preparation for prosthetics with crowns, will be announced to you by the dentist during the initial consultation and when developing the treatment plan.
WANT TO SIGN UP AT THE DOCTOR'S ADMISSION
Send an application and we will pick it up the best time for you