Restoration of teeth in the QRD-Dental clinic, Kyiv
Types of restoration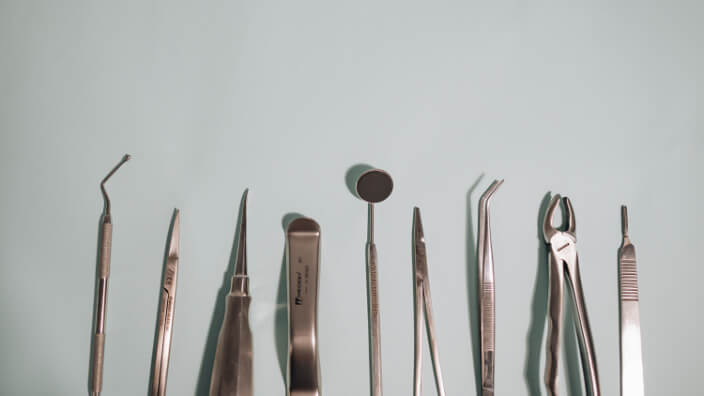 There are two types of restoration: aesthetic, also called artistic, and conventional. Artistic restoration restores and improves the appearance of teeth, making them much more attractive and as similar as possible to the rest of the teeth.
Depending on the level of complexity, artistic restoration is divided into two types: direct and indirect.
Direct aesthetic (artistic) restoration
This type of restoration is suitable for patients with minor tooth defects, living teeth and no root canal treatment. The dentist models the shape of the teeth, works on correcting defects directly in the patient's oral cavity.
In some cases, such as large chips or simultaneous restoration of two or more teeth, direct restorations require modeling by a dental technician. First, the doctor makes impressions, and then the teeth, already modeled by the technician, are transferred directly into the oral cavity.
Indications for direct restoration include:
cracks or chipped teeth

diastema, interdental gaps

crooked or uneven teeth

worn teeth

teeth of different heights

enamel darkening

small missing particles of the tooth
It should be noted that with conditions such as cavities or periodontitis, any restoration will have to wait until these conditions are completely cured.
In our clinic, we use photopolymer materials from the Japanese company Astria and the American one – Harmonize for direct restorations. They are strong and aesthetic, of high quality and do not change color under the influence of the food and drinks.
Different shades of photopolymers are used to restore the front teeth so that the restorations match the natural color of the patient's teeth as closely as possible.
Advantages and disadvantages of direct restorations
The tangible advantages of direct restorations include a fairly short manufacturing time and a relatively low cost. The high-quality materials we use for restorations look quite aesthetic, ensuring an attractive smile after the completion of treatment.
The disadvantage is the limited lifespan of such restorations, which is usually up to 7 years, and the need for professional hygiene to ensure that the restorations do not lose their aesthetic appeal.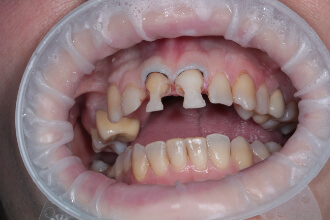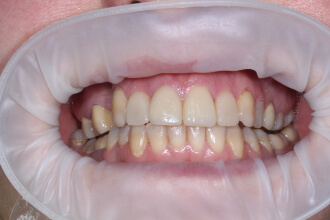 (Artistic restoration with Epress direk A3 TRANS OPAL 30 material)
Indirect ceramic restoration
Ceramic restoration is used for patients with more complex defects that require prior treatment and in case of extensive tooth decay (where a significant (25-50%) part of the tooth is destroyed).
Indications for ceramic restorations include:
An endodontically treated tooth (a tooth without a nerve), as a ceramic restoration prevents a tooth from cracking (split). It often happens that the filling itself is in place, but the wall of the tooth is chipped. In most cases, such a tooth cannot be saved. It must be removed and replaced with an implant. Therefore, we recommend that after root canal treatment the tooth is covered with a ceramic restoration (crown or inlay)

If there is a large filling/cavity in the tooth, it is better to put a ceramic overlay on the tooth, which will last for decades.

If there are large fillings or old photopolymer restorations on the front teeth, it is better to replace these fillings with veneers. In most cases, this will be more aesthetic and long-lasting.
The indirect method involves several stages and consists of taking dental impressions and making crowns or inlays, also called micro-prosthetics, in the dental laboratory and finally fixing the new part of the tooth in the oral cavity.
Materials recommended for the manufacture of such structures are ceramics and metal ceramics.
Modeling teeth with ceramic inlays is quite expensive, but the final result and long service life are worth it.
The production time from the taking impressions to their fixation is about two weeks.
Advantages and disadvantages of indirect ceramic restorations
Ceramic restorations have a fairly long service life. Executed properly, they last up to 20 years.
Also, ceramic restorations do not require specific additional care, as regular oral hygiene is sufficient.
The aesthetic appearance is another significant advantage of indirect restorations. They look as natural as possible, making it difficult to distinguish them from the patient's own teeth.
However, the disadvantages include the high cost and a fairly long waiting period for the production of crowns or inlays.
Front teeth restorations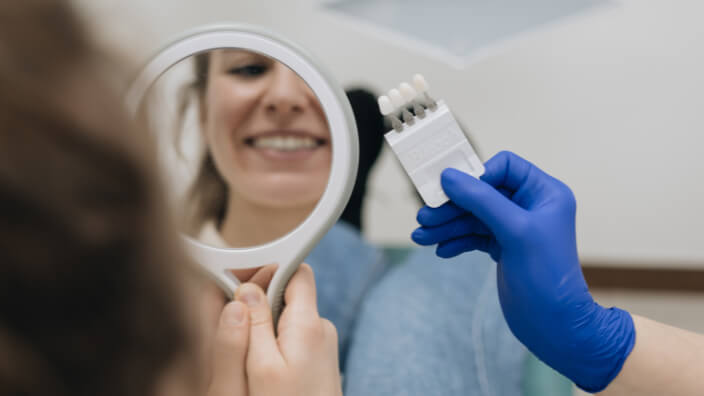 If the front teeth are affected by cavities or other conditions and the aesthetics of the smile are lost, it makes sense to think about ceramic restorations. Veneers are most commonly used for front teeth. These ceramic overlays effectively mask enamel cracks, chips, and also address the teeth whitening concerns.
If you have any questions – call us. We will provide you with all the necessary information to help you make a decision.
WANT TO SIGN UP AT THE DOCTOR'S ADMISSION
Send an application and we will pick it up the best time for you