Modern digital dentistry in Kyiv, Svyatoshin district, Borschagovka
Modern digital dentistry in Kyiv on Borschagovka is the QRD Dental dentistry. That is not just another dental clinic in one of the districts of Kyiv – it is a team of experienced professionals. Our goal is to give you a healthy and snow-white smile and keep the high standards of service for patients who need the help of a dentist.
To comply with the stated level, we collected the best specialists of Kyiv with profile education and extensive experience in medical practice in our team. We try to create the most comfortable conditions for the patients who visit our dental clinic. The teeth treatment process must deliver as little discomfort as possible.
Our clinic is located in the Svyatoshin district of Kyiv. You can quickly get to us by using both personal and public transport.
It is worth noting that the QRD Dental is a clinic where each patient will receive the attention of the doctor, the most detailed treatment plan, the possibility of phased payment, and reasonable prices for services.
I guarantee quality treatment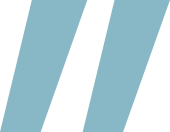 Welcome to the site of Dentistry QRD Dental
The most important task for us is a complete change in the usual formats of doctors' work and approaches to treatment. Professional dental services should be pain-free, odor-free, affordable and comfortable for any patient. In the first place for us – health and respect for our customers
Makhynia Valerii /главный врач/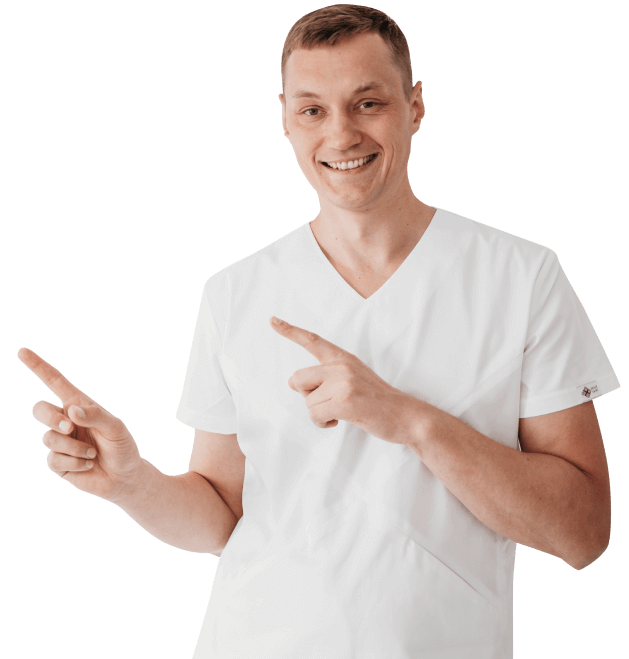 Quality
Responsibility
Durability
Our dentists
Contact QRD Dental dentistry in Kyiv, and you will be satisfied with both a respectful attitude and the result. In addition to this, the treatment process will not leave you harmful and painful memories.
We will give you a beautiful smile, and you will recommend us to friends and acquaintances.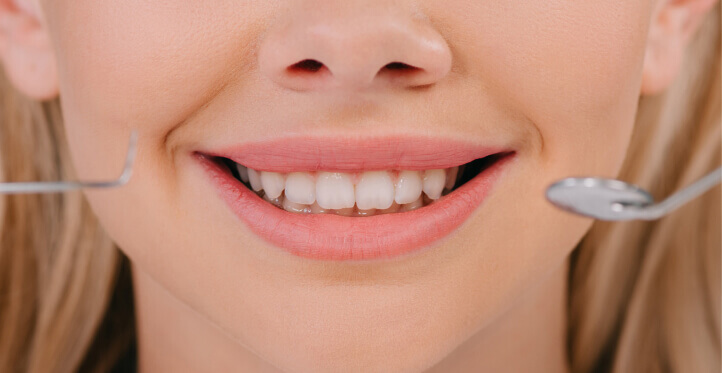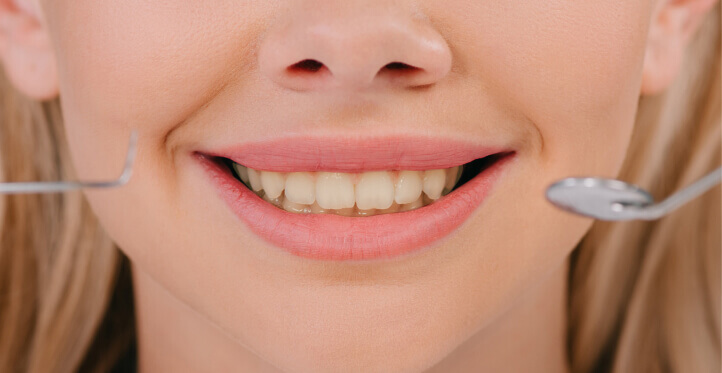 WANT TO SIGN UP AT THE
DOCTOR'S ADMISSION
Send an application and we will pick
it up the best time for you
DENTISTRY SOFIEVSKAYA IN BORSCHAGOVKA, KYIV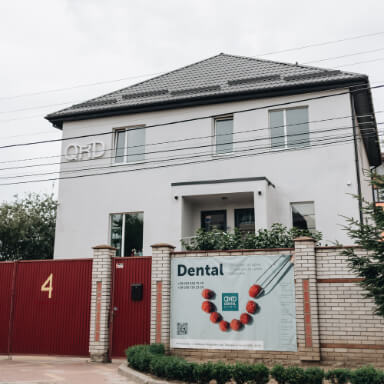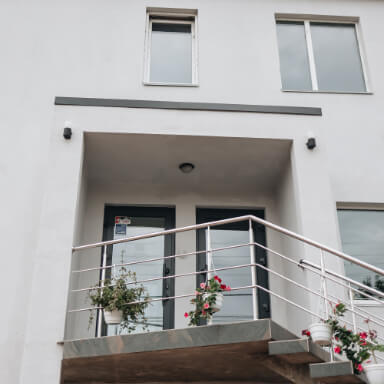 Our Dentistry QRD Dental is a modern clinic with the best equipment located on Sofievskaya Borschagovka in Kyiv. It's not difficult to find us; the dentistry is located at May Street, 4.
We can provide urgent dentistry services to both residents of Sofievskaya Borschagovka and other regions of the city. Before visiting, especially on acute pain, please contact the clinic by any of the phone numbers you see on the site – so that our administrators can find the optimal reception time for you in the schedule of our specialists and provide medical care as soon as possible.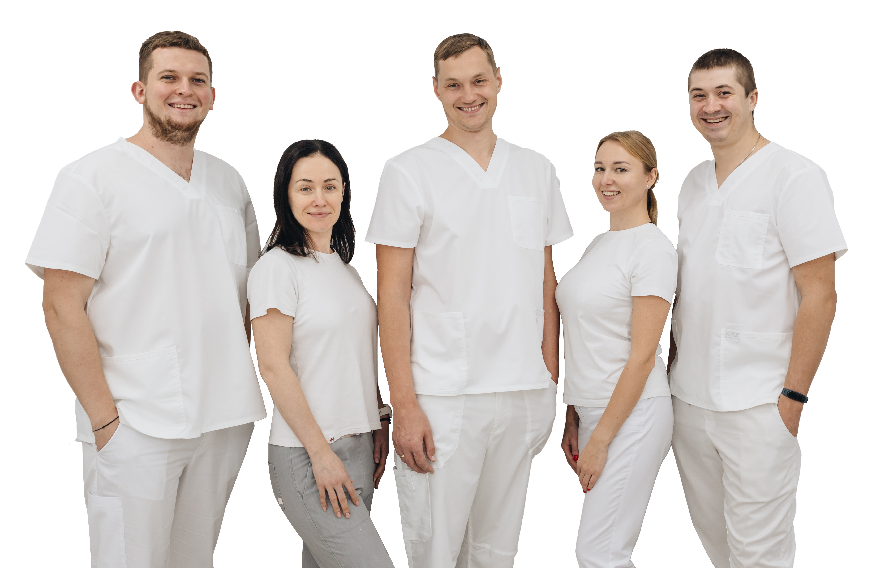 Dentists QRD Dental have developed their own methodology that allows you to get the desired result at a reasonable price and in a short time.
At the same time, we adhere to the indestructible principles of modern dentistry: Kiev and other cities have already seen that QRD means quality materials, high standards of medical responsibility (responsibility) and long-term result (durability)
bleaching procedures
teeth per year
prosthetic procedures
per year
+
patients with the correct
bite
MODERN DIGITAL DENTISTRY QRD IN KYIV
Modern digital dentistry is a new level of dental services such as caries treatment, bite correction, and prosthetics.
Today, digital dentistry is an advanced technology that makes it possible to eliminate the human factor of many processes, which helps minimize the risks of making mistakes. It also improves accuracy and quality of treatment, as well as accelerates the therapeutic process. Visit the QRD Dental, and you will personally make sure that digital dentistry is fast, high quality, and painless.
Not every dental clinic in Kyiv can afford the appropriate equipment and have professional skills. Meanwhile, digital dentistry has many advantages:
1
Convenience for the patient – complete non-invasiveness of manipulations. We simplify such processes as making casts. That makes it possible to eliminate the most unpleasant procedures from the general treatment scheme.
2
Optimization of treatment time due to the acceleration of processes; for example, the cast can be taken in a minute, and the tooth crown – in a day.
3
Availability – digital dentistry is not very different at the price of analog, while its quality is much higher.
Affordable family dentistry in Svyatoshin district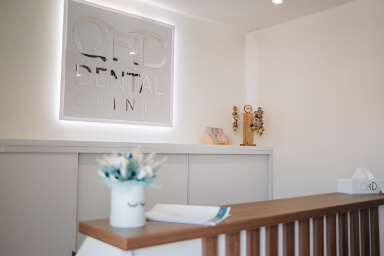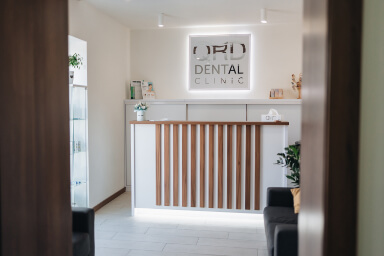 Do you need affordable family dentistry in the Svyatoshin district? We are waiting for you at QRD Dental! Our clinic has specialists for both adults and children. No matter what problem brought you to our clinic, we will find an effective solution.
Without a doubt, it is difficult to fully allocate time for visiting the dentist in the modern rhythm of life, especially if you plan preventive inspection. Therefore, come to QRD Dental together with your husband, children, or parents without losing extra time.
With us, you can pass a preventive inspection, get a free consultation, and necessary treatment for the whole family, whether it is the feeling of teeth, installation of braces, or prosthetics. We will make a phased treatment plan for you so that you can plan your expenditures.
It is worth mentioning that the cost of services provided in our dentistry is quite acceptable, including for media income patients.
Children's dentistry Borschagovka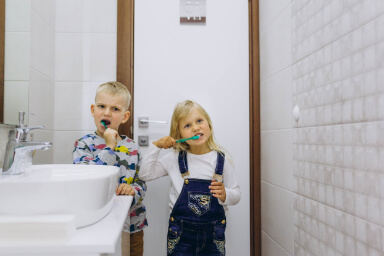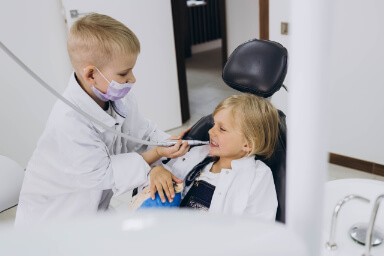 Often our patients are looking for children's dentistry on Borschagovka before coming to us. It is worth noting that there is an experienced children's dentist in the QRD Dental. He has high professionalism and also finds an approach to small patients without any problems.
It is necessary to take care of your kid's teeth when the first milk tooth appears, so do not forget to undergo regular check-ups in children's dentistry.
Family dentistry on Borschagovka prices and reviews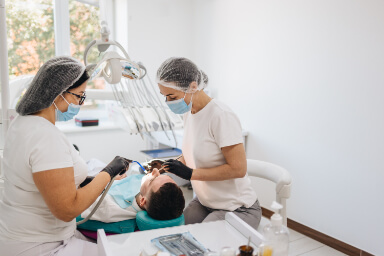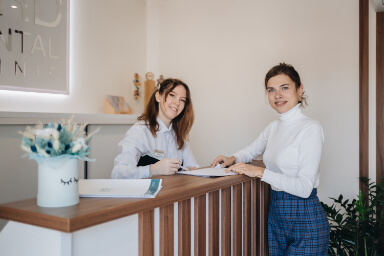 There is no doubt that before visiting dentistry on Borschagovka, you will want to familiarize yourself with prices and reviews. It is worth noting that the pricing policy of our clinic has made the necessary treatment affordable for most patients.
We offer you expert advice and a preliminary price list for the necessary procedures that will allow you to get the smile of your dreams.
You can also look through the reviews left on the site by our patients or read the comments about our clinic on third-party resources, which once again proves that they talk about us and trust us.
Come to QRD Dental clinic – we are always happy to provide qualified assistance and allow you to forget about toothache forever!
Find us:
Sofiyivska Borschagivka, Travneva, 4 str

Zhytomyrskaya, Svyatoshyn

Vasilkovskaya

Teremki

Kontraktova ploshcha

720, 721

718

904

820