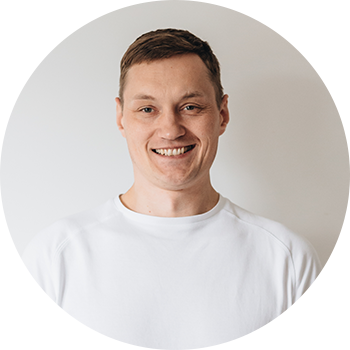 Specialty Medical director, dentist-orthopedic-gnathologist, surgeon.
15 years of work experience
Education: NMU named after O.O. Bogomolets
Postgraduate education National University of Health Care of Ukraine named after P.L. Shupyka
About me
I graduated from the medical university in 2008 and became a dentist. Since that time, working for 10 years in different stomatology, constantly learning and developing, I was able to implement the idea of my own clinic, free from stereotypes and total standardization.
Today, at QRD Dental, my colleagues and I provide clinic patients with comprehensive dental services, which include treatment planning, therapeutic and surgical treatment, orthopedic and aesthetic dentistry, and gnathological reception.
During a gnathological appointment, I help solve problems related to pathologies or anatomical features of the jaw structure.
In addition, I treat such diseases of the temporomandibular joints as arthrosis and arthritis, dislocation and subluxation, as well as in complex dental treatment I help bring the jaw into the correct anatomical position.
Constantly learning and mastering modern treatment methods, as a medical director and a practicing doctor, I raise the level of the QRD Dental clinic, without changing the initially chosen path. As before, Quality, Reliability and Durability of the result are the foundation of our dentistry.
We are regularly visited by patients not only from Kyiv and its suburbs, but also from other regions of Ukraine, as well as countries near and far abroad. Many of them want to receive my consultation. 
I am often recommended as a high-level specialist by our grateful Ukrainian and foreign patients. In my opinion, this is the best indicator of professionalism, competence and human qualities.
Reasons for applying:
veneers,

prosthetics on implants,

medical dentistry,

setting the bite

correction of pathologies of the maxillofacial system, highly aesthetic works
Professional motto: My main goal is providing patients with affordable solutions to dental problems of any complexity, as well as achieving a balance of functionality and aesthetics in the work.