Online dental consultation in Kyiv, Ukraine
Online dental consultation can be used in such cases as:
The patient cannot visit the clinic, but there is a need to consult a specialist. For example, after treatment, if unpleasant symptoms have occurred. Or when the patient wants to learn more about the implantation or installation of veneers and wants to hear a professional opinion in his particular case.

Online consultation is a chance for foreign citizens to choose a clinic and a doctor in Kyiv. The patient can send X-rays or CT scans in order to get a preliminary treatment plan and to know the cost before planning a trip.

The patient has already had a treatment plan, but wants an alternative opinion.

The patient wants to get to know the doctor before the appointment, in order to reduce the discomfort and stress of visiting the dentist.

When the patient has doubts that in his case that the clinic's specialists will be able to help and implement the treatment plan, then in order to save time, the patient can receive an online consultation.

When a patient has passed the examination earlier and wants to hear a preliminary diagnosis and a predicted cost of treatment.
Online dental surgeon consultation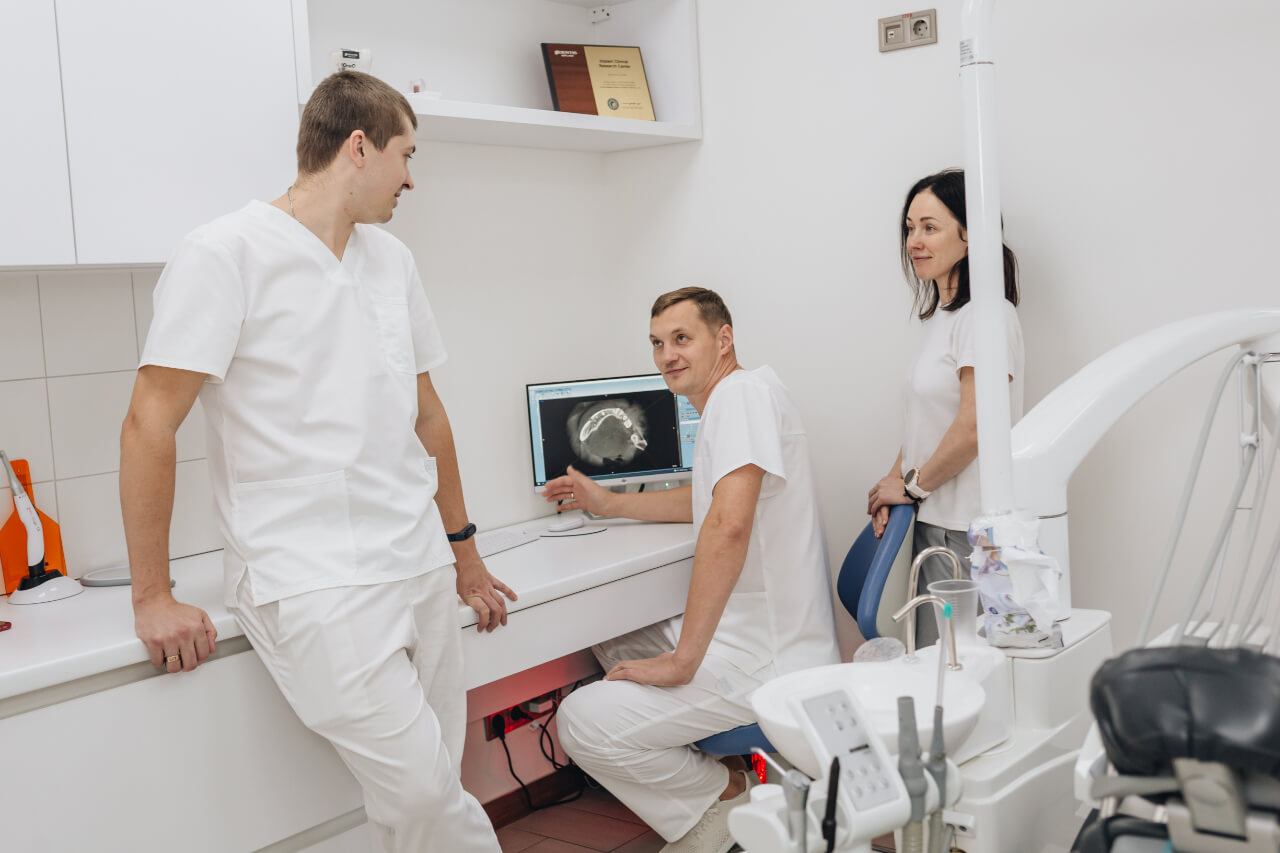 Dental surgery is a rather complex area. Not every clinic carries out a number of surgical conditions that a patient needs. That is why an online consultation with a dental surgeon makes it possible to clarify whether a doctor can perform an operation, whether he has experience with similar cases.
The patient will be able to receive information about the upcoming manipulations and the recovery period. He can clarify what additional examinations need to be done, how long the procedure itself and recovery after it will take.
A consultation with a dental surgeon will be useful if you are planning an implant setting. The doctor will be able to answer whether implantation is possible, whether there is a need to carry out a sinus lift procedure first.
Online consultation with a dental surgeon helps you to overcome the fear of an upcoming surgery. After talking to a doctor the patient will be able to decide whether he trusts a specialist and is ready to address him with his problem.
Online orthodontist consultation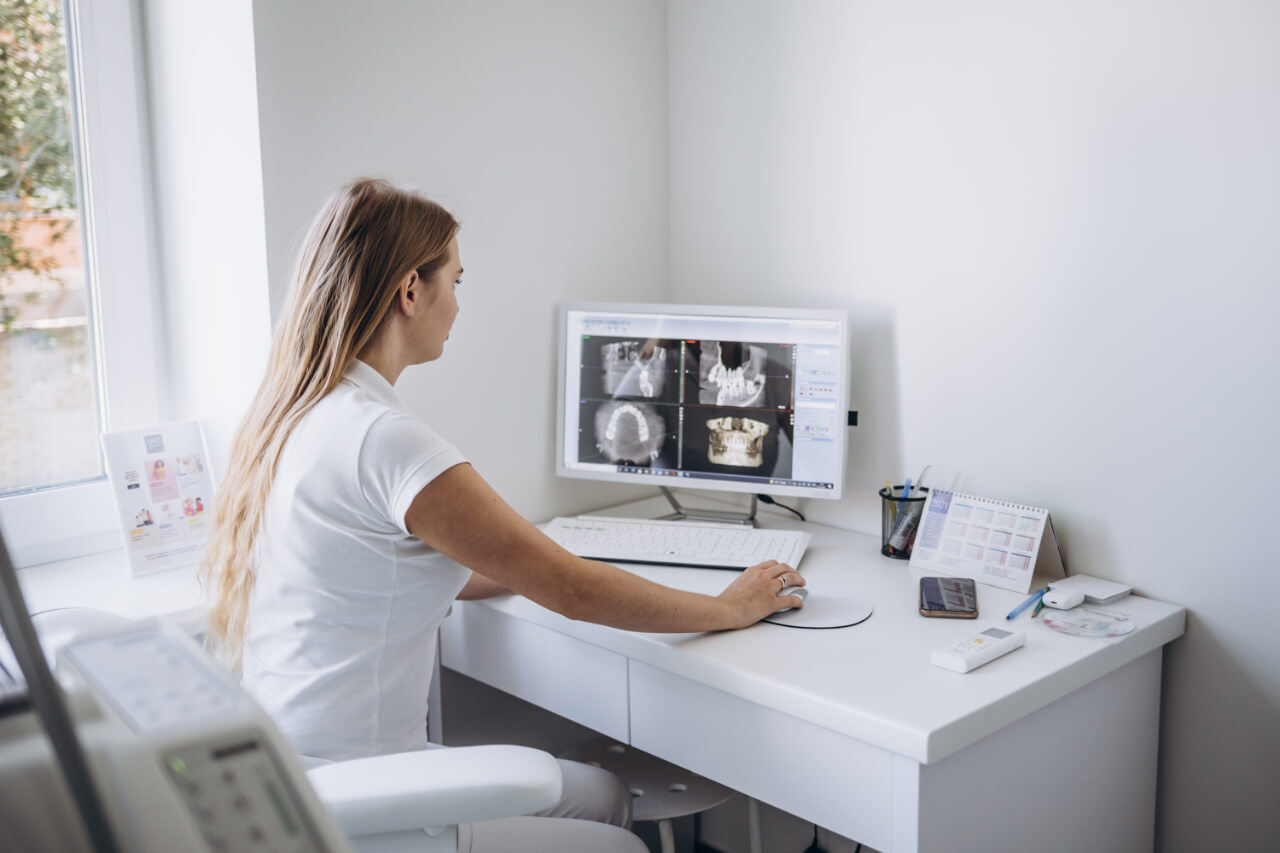 Online consultation with an orthodontist helps patients who need to straighten their teeth to receive information on methods that can be effective in their situation.
For example, before placing braces, you can get consultation about the predicted period of orthodontic treatment and possible additional medical procedures. If the patient considers aligners as a more acceptable option, an online consultation with a doctor will make it possible to determine whether such orthodontic treatment is suitable for the patient in his case, or whether its effectiveness is uncertain.
Parents of teenagers who worry about the problem of crooked teeth can find out at what age to start treatment and plan a visit to the orthodontist.
Online dental consultation at QRD Dental clinic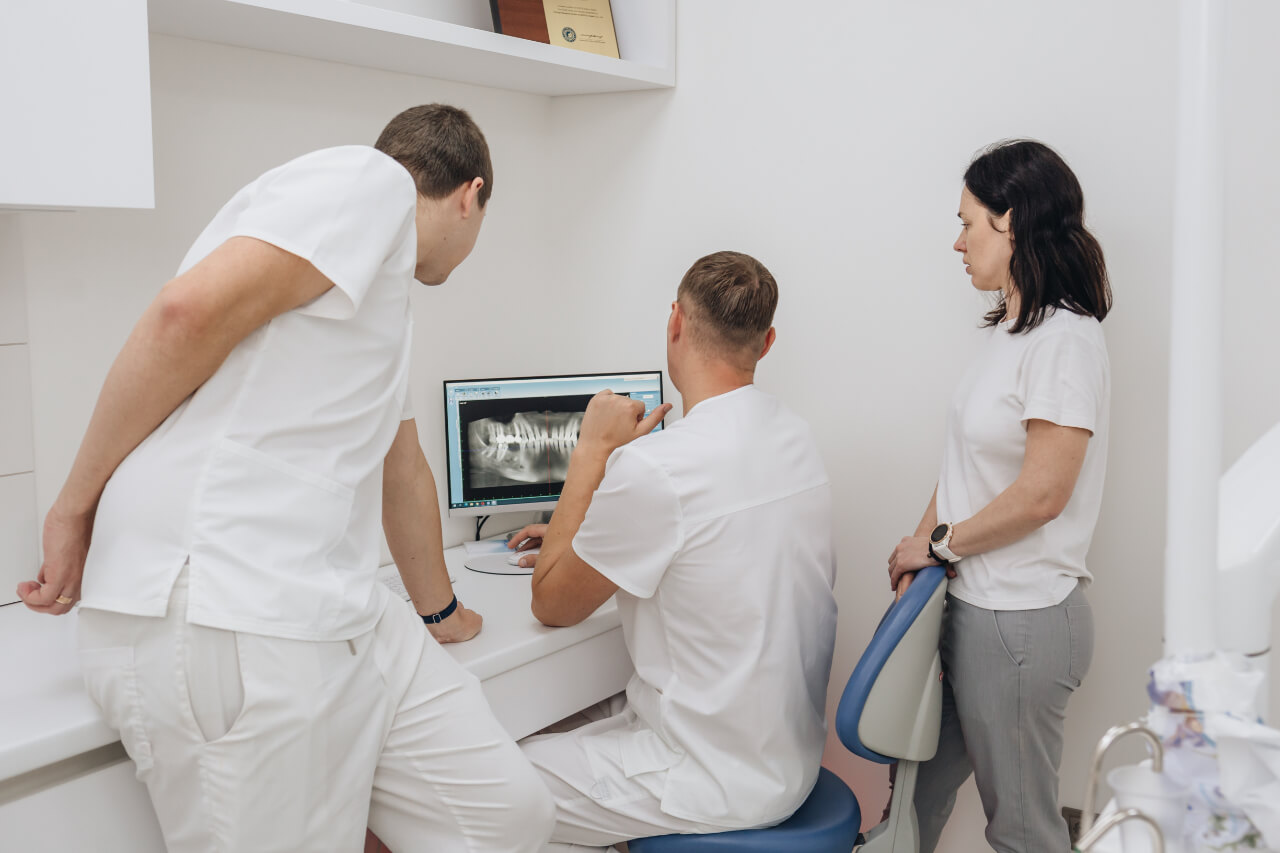 Online dental consultation at QRD Dental clinic
Online consultation of a dentist at the QRD Dental clinic is carried out by practising dentists with extensive experience and successful cases with complex dental problems.
Doctors of all dental fields work in our clinic. This allows us to consult both on aesthetic issues such as professional hygiene, whitening, paediatric dentistry, and in complex dental cases. These include – endodontic re-treatment, total prosthetics, treatment of temporomandibular joint dysfunction, implantation, complex dental treatment.
You can get an online dentist consultation with us through any messengers, such as Skype, Telegram, Viber, Instagram Direct, WhatsApp, Facebook Messenger.
At the consultation, you will be able to assess the qualifications and human qualities of a specialist, ask any questions that concern you, get an alternative opinion and analyse the treatment plan you've had before.
How the online consultation with a dentist goes
In order to get an online dental consultation at QRD Dental, you need to do the following:
Leave a request on the website or call and ask the manager to book you an online consultation with a specialist.

Provide, if you have any, test results, X-rays, CT scans or treatment plan. It is better to send them to the doctor in advance for review.

Choose a convenient messenger for a consultation and agree on a time.

5 minutes before the appointed time, the manager will call or send you a link to an online consultation to remind you that our specialist will contact you.

The dentist will contact you for a consultation. Within 15 minutes, the doctor will answer your questions. If you have sent the results of examinations or a treatment plan earlier, then the doctor can preliminarily discuss the diagnosis and propose treatment. If necessary, you will agree on the date and time of the appointment, the estimated cost and the option of stage-by-stage treatment.
Online consultation not only saves you time. It gives you the opportunity to receive qualified information support no matter where you are.
You should not be alone with your problems. Contact our specialists, and we will help you solve any dental problems quickly, affordably and without pain!
WANT TO SIGN UP AT THE DOCTOR'S ADMISSION
Send an application and we will pick it up the best time for you